CHEMICAL RESISTANT GLOVES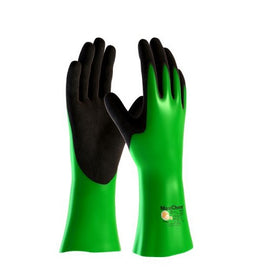 -23%
$12.99 $16.66
PRODUCT DESCRIPTION
MaxiChem® is designed and developed for those working with chemicals requiring longer and higher levels of protection. MaxiChem® is tested and certified according to EN 374-3.
FEATURES
Chemical Resistance - Delivered through the ATG® LiquiTech® technology platform.
Ultra-Lightweight - Synthetic coating combined with an industry-leading super light seamless knit liner provides excellent comfort, sensitivity, fit, and dexterity
Tailored Cuff - Keeping the cuff close to your hand so maintaining your fingers at the tip of the glove to maximize dexterity.
Micro-cup non-slip grip finish allows for a controlled and superior grip in oily and wet applications. The nonslip grip is only applied where it is actually needed - in the palm area - to ensure flexibility isn't compromised.
All ingredients used in the manufacturing and construction of this product are compliant with the REACH legislation.
This glove has been laundered prior to final packaging making it clean and safe for use.
The Oeko-Tex® Association has evaluated and certified this product as skin safe from the second it comes into contact with the skin.
The Skin Health Alliance has awarded professional dermatological accreditation following a review of the scientific dossier behind this product.
Chemical Permeation
The chemical permeation of our product is measured in accordance with European Standard EN 374-3. This measures the resistance of protective gloves against chemicals and microorganisms. Part 3 of the standard determines the level of resistance to permeation by chemicals.
Breakthrough Time (BTT)

The number of minutes from initial contact with a test chemical until it is first detected on the inside of the glove.
Breakthrough Time - Protection Index
Each chemical tested is classified in terms of breakthrough time (performance level 0 to 6).